Prayer Vigil for Peace in Eastern Europe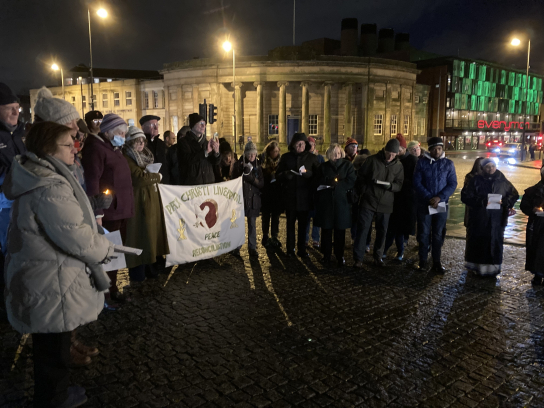 Photo of Participants at the Vigil of Prayer for Peace between Russia and Ukraine
(Photo by Rev. Miranda Threlfall-Holmes)
"That was good. We should do it more often" is what the Imam said to me at the end of prayer. Others said the same, reiterating the same feeling I had, despite the cold, biting wind and rain, on Friday, 4th February, as we prayed for peace on the steps of the Cathedral. Our prayer was especially for a peaceful outcome from the confrontation between Russia and Ukraine. But we also put up a banner with the names of more than 10 countries who are presently being torn apart by violent and mortal conflict.
A small group of some 40 or 50 people gathered. Hindu, Anglican, Muslim, Roman Catholic, Ukrainian Catholic Church: we all prayed to our God of Peace. A number of our parishes were represented. Pax Christi were there, as were Archbishop Malcom and Bishop Tom Williams, the Sisters of Seel Street, the Sacred Heart Sisters, the FCJ, and our own Cardinal. And who have I missed out?
It was proof that religion is not always divisive but can unite, can bring together for the good of all. It reminded me of the Psalm 133; "How good and pleasant it is when brothers live together in unity! It is like precious oil poured on the head, running down on the beard, running down on Aaron's beard, down upon the collar of his robes"
This is, indeed, something we should do, together and more often. In this age of secularism and individualism, it was good to see Faith in God bringing people together to build a world of Peace and Justice. This is surely the Kingdom of God that we all seek. And it begins here on earth!
Terry Madden